Chevrolet Truck S10 Pickup V6 for sale
Sort by:
For sale in , Suamico, WI, 54173, USA -
Used 2001 Chevrolet S10 for sale. for sale. 2001 Chevy S10 Pickup! 4.3L Vortec V6 engine with automatic transmission! CREW CAB! four fullsize doors! Very hard to find!!! Truck is in SUPERB condition inside AND out!!! BRAND NEW GOODYEAR WRANGLER all seasonal tires just installed! (800.00 value alone
135,000 Miles
Year 2001
For sale in , Washington, DC, , USA -
2003 chevy s10 extended cab (fredericksburg/va) for sale. 2003 chevy s10 with 186k on it but still runs well Stop by today this truck will not last long at this price Chevrolet S-10 extended cab pickup truck, two wheel-drive automatic, miles 186k, bed cover , v6 4.3, runs and drives good,all power options, elect
0 Miles
Year 2003
For sale in , Pittsburgh, PA, , USA -
2003 Chevy S10 Crew Cab Pickup Truck for sale. 2003 Chevy S10, four Door, Crew Cab Pickup Truck. 87,890mis, White with gray interior. Super clean, four Wheel Drive, V6, Hard Tonnau cover on bed. PW, PLocks, AM/FM, Cd system. Call or stop by Bama Auto Sales, 2220 Freeport Road, New Kensington, PA 15068
87,890 Miles
Year 2003
Make/Model: Chevrolet - Color: - Condition: Used
For sale in , Woodbridge, VA, 22191, USA -
1997 Chevy S10 Pickup 70,000 Miles NEED TO SELL ASAP for sale. 1997 Chevy S10 n4.3L Vortec V6nAutomatic n4x2/2WDn70,XXX MilesnnNeed to say we have a kid on the way and since we bought a new car we have no place to park this in our townhouse development.nnGoodnnAlpine CD/MP3 PlayernnRecently Replaced o2 se
70,000 Miles
Year 1997
For sale in , Florence, SC, , USA -
1990 chevy s10 for sale. 1990 chevy long wheel base pickup. motor has 161k, . interior is pretty decent for truck thats almost 22yrs old . kenwood detachable face compact disc player w/remote. DONT SLEEP ON THIS LIL CHEVY, V6 MOTOR WITH EDELBROCK INTAKE AND CARB ALSO HAS TACHOMET
0 Miles
Year 1990
For sale in 556 Massasoit Rd ,Worcester ,Massachusetts ,01604 -
2004 CHEVROLET TRUCK S10 PICKUP-V6 for sale. Looks Real Good - Runs Great - Hurry won't last!
126,534 Miles
Year 2004
For sale in 148-152 Hamburg Pike, Bloomingdale, NJ, 07403 USA -
2003 Chevrolet S-10 for sale. ?VISIT OUR WEBSITE TO VIEW A FREE VEHICLE HISTORY REPORT. 2003 Chevrolet S10 LS 1GCCT19X238199715 Extended Cab 2D 4.3L V6 MPI ALL WHEEL DRIVE Vehicle Overview Chevrolets compact pickup truck sees only a handful of changes for the 2003 model year, ...
114,465 Miles
Year 2003
For sale in SHERWOOD,OH,43556,USA -
1995 CHEVROLET S-10 for sale. 1995 Chevy S10 Pickup powered by the 4.3L V6 engine with 89628 actual miles with a 5 speed manual transmission, Extended cab, 4 wheel drive, Some service records, tow package, bedliner Truck does NOT have power windows, power locks, cruise, A/C Low ...
89,628 Miles
Year 1995
For sale in 8201 Leesburg Pike, Vienna, VA, 22182 -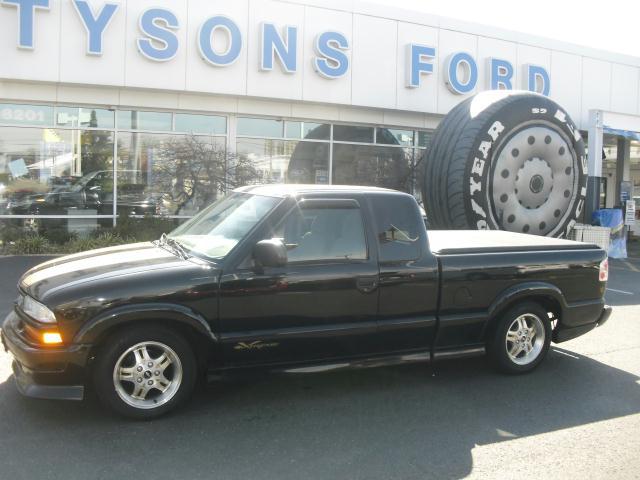 2003 Chevrolet S10 Xtreme Ext Cab Third Door V6 Automat for sale. ENGINE SIZE : 4.3TRANSMISSION : AutomaticFUEL TYPE : GasolineSTOCK NO : 34552OPTIONS : AM/FM Stereo, Air Bag - Driver, Air Bag - Passenger, Brakes-ABS-4 Wheel, Cruise control, Daytime Running Lights, Door-Passenger 3rd, Engine Immobilizer/Vehicle ...
144,257 Miles
Year 2003
For sale in Corcoran, MN 55340 -
1998 Chevrolet S-10 Base for sale. would make an awesome truck for many applications, all the right equipment, super sharp bright red finish!, Cloth Seats, Air Conditioning, 4.3 V6 with auto o/d transmission, 1998 Chevrolet S10 Reg Cab Pickup
178,495 Miles
Year 1998
For sale in , , United States -
2001 CHEVY-S10 V6 LEFTED - $7999 (Covina) for sale. This S-10 mimics the big Chevy pickups with the horizontal bar grille and nicely rounded contours. It looks like a truck. No trick, no gimmicks, just sincere serviceability. This is an 03901 S-10 with a short box and a 180-horsepower 4.3-liter V6. ...
101,850 Miles
Year 2001
For sale in Glendale Heights, Illinois, 60139 -
2003 Chevrolet S10 Ext Cab in Glendale Heights for sale. 2003 CHEVROLET S10 LS XTREME, EXTENDED CAB PICKUP TRUCK, *** 2003 CHEVROLET S-10 LS *** ONE OWNER!! XTREME SPORT PACKAGE! 4.3L VORTEC V6 ENGINE! UPGRADED STEREO AND SUNROOF! FULLY SERVICED, DETAILED AND READY TO GO!! CARFAX: 1-OWNER, BUY BACK ...
103,328 Miles
Year 2003
For sale in Culpeper,VA,USA -
Salvage Chevrolet S10 Pickup V6, 4.3L (262 CID); 1998 for sale. Salvage Chevrolet S10 Pickup V6, 4.3L (262 CID); 1998 repairable vehicle for sale in the Chevrolet inventory from Vehbidz Auto Auction. Chevrolet S10 Pickup, used, wrecked, damaged, repairable Chevrolet S10 Pickup cars, SUVs, motorcycles, trucks, ...
69,609 Miles
Year 1998
For sale in Signal Hill, CA, 90755 -
2003 Chevrolet S-10 for sale. 2003 Chevrolet S-10, White/Gray, V6 4.3L, 44596 miles, This 2003 Chevy S10 3-door Extended Cab Pickup is just what you have been looking for. Everyone needs a little truck to have around the house! This clean little truck has the classic 4.3 liter ...
0 Miles
Year 2003